HNZ Registered Clinical Hypnotherapist
Over 25 Years Experience!
Wanganui Hypnotherapy Clinic

Gastric Band Hypnotherapy Treatment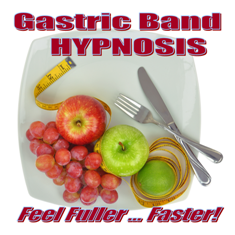 What Is This?
Gastric Band Hypnotherapy Treatment is an amazing virtual
(imaginary)
procedure that can be carried out in the Hypnotherapy clinic with any motivated, imaginative Hypnotherapy client who is seeking support and assistance for a significant weight issue.
How Does It Work?
During the first
(of two)
Hypnotherapy sessions, after the information sharing and procedure explanation, Hypnotherapist (Grant Boddington) assists you into a state of relaxation (trance) which enhances your ability to imagine the procedure. He then presents your subconscious mind with a series of suggestions and visualisations related to the fitment of a Gastric Band. Accepting these messages help your mind to respond as if a Gastric Band has been actually fitted around the upper portion of your stomach.
Grant's Gastric Band Hypnotherapy is an imagined procedure, based on the medical operation which is conducted by a surgeon. But of course the Hypnotherapy version of this "operation" is totally imaginary - and therefore completely safe.
Less intake of food generally results in significant weight loss. If at the same time you also increase your metabolism, then the process can be further enhanced and more significant weight loss can occur. In very basic language, this treatment promotes eating less and moving more!
How Many Sessions Does It Require?
This is usually a two session process with Registered Clinical Hypnotherapist Grant Boddington; the first of which is 2 hours and the second is 1 hour
(total 3 hours)
. The second session should be attended around a week
(and no more than 2 weeks)
after the first.
Subsequent personal use of two included recordings
(13 minutes in the morning and 9 minutes at night)
for at least 3 weeks after the initial treatment are essential components in the process and are designed to compound the suggestions and visualisations; thereby contributing towards effectiveness of this treatment.
[Important Note: Support recordings are provided by email after your session. Please Grant know when you book if you are unable to access email recordings and he'll do his best to arrange an alternative for you.]
As an optional extra
(and providing you're sticking to the programme)
you're welcome to a third, FREE support session within 4 weeks of your initial session.
Suitability

You must be:

~
100% committed to achieving your realistic weight reduction goals.
~
Open minded with a vivid imagination.
~
Be willing to follow the treatment support and management plan.

How Much Does It Cost?

This treatment is just $380.00 for the two sessions
(payable at the 1st session)
. This price includes all recordings
,
plus several other practical handouts to assist with the effectiveness of the treatment. Payment can be made by either cash or bank deposit to 02 0792 0356645 00.
(Eftpos is not available.)
How Do I Book?
It's simple! Please contact Grant to discuss your suitability for the Gastric Band treatment and if it's right for you, book a suitable time for your initial and follow-up sessions. You're welcome to initially inquire by
email
or text message (021 447 481) but generally an appointment will only be confirmed during, or after, a telephone discussion. (06 345 2000 or 021 447 481).
HOURS
Now in semi-retirement, Grant conducts a maximum of just 1 client session per weekday between 9:00am & 5:00pm.
NB: Weight loss takes time and effort to be successful. People should seek professional advice on diiet, exercise and lifestyle changes. Individual results may vary.


---
---
---
GL Boddington
Copyright © 1996